MISSION
The ADR Committee seeks to promote to lawyers, the judiciary, and the public, the use and value of alternative dispute resolution (ADR) processes. These processes help parties resolve disputes without a trial in a less costly and more timely and satisfying manner. In particular, we offer members of the bench and the bar, tools and resources so that they can be more effective and successful ADR practitioners or consumers. The Committee organizes substantive webinars and seminars featuring experienced and knowledgeable speakers on all aspects of ADR, for which participants can receive CLE and CME credits.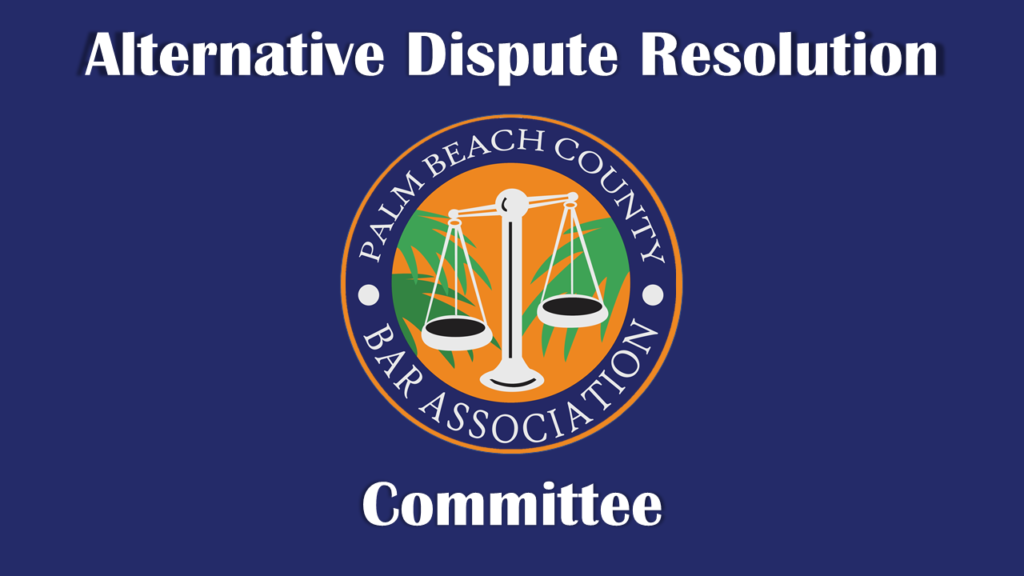 Chair
Rosine M. Plank-Brumback – rplankbrum@gmail.com | 561.625.9275
Past Committee Chairs:
Theodore A. Deckert (2015-2017), Amber E.B. McMichael (2012-2015), W. Jay Hunston, Jr. (2000-2012)
Committees are a great way to get involved with your local bar association, network with your colleagues and become a leader in your legal community.
| | | | |
| --- | --- | --- | --- |
| EVENT NAME | PROGRAM DATE | PROGRAM TITLE | PROGRAM AGENDA |
| ADR SESSION AT THE ANNUAL PBCBA BENCH BAR CONFERENCE | | | |
| | Friday, March 20, 2020 | You Can Always Be a Better Negotiator | |
| | Friday, February 22, 2019 | Using Neutrals to Expedite ESI Disputes | |
| | Friday, March 9, 2018 | Working Together to Maximize Benefits of ADR for Clients | |
| | | | | | |
| --- | --- | --- | --- | --- | --- |
| EVENT NAME | PROGRAM DATE | PROGRAM TITLE | PROGRAM AGENDA | WEBINAR | PHOTO GALLERY |
| ANNUAL ADR SEMINAR | | | | | |
| | Monday, February 10, 2020 | The New Flavors of ADR | | | |
| | Monday, February 11, 2019 | Emerging Trends in ADR and ODR – Blending the Old and the New | | | |
| | Monday, February 12, 2018 | Evolving Trends in ADR: Cooperation, the Key to Agreement | | | |
| | | | | | |
| --- | --- | --- | --- | --- | --- |
| EVENT NAME | PROGRAM DATE | PROGRAM TITLE | PROGRAM AGENDA | WEBINAR | PHOTO GALLERY |
| ANNUAL MEDIATION WEEK | | | | | |
| Mediation Seminar | October 17, 2019 | Navigating Complex Mediations | | | |
| | October 18, 2019 | Mediation – A Civil Way to Resolve Disputes | | | |
| PBC High School Essay & Video Contest | October 2019 | Win-Win Through Mediation | | | |
| | October 17, 2018 | Mediation – A Civil Way to Resolve Disputes | | | |