MISSION
to serve as a liaison between the Bar and the Judiciary; plan, implement and coordinate programs for better relations between the Bench and Bar, including the annual Bench Bar Conference, Judicial Lunch seminar series, judicial relations spokespersons who conduct in-person meetings with the judges, and the bi-annual judicial evaluations administered by the PBCBA. Provide information to the public to ease court access.
The JRC Committee is thankful for the everlasting impact that Judge Meenu Sasser had on this committee. She will always be remembered as a true leader of the Judiciary. (1970 – 2019)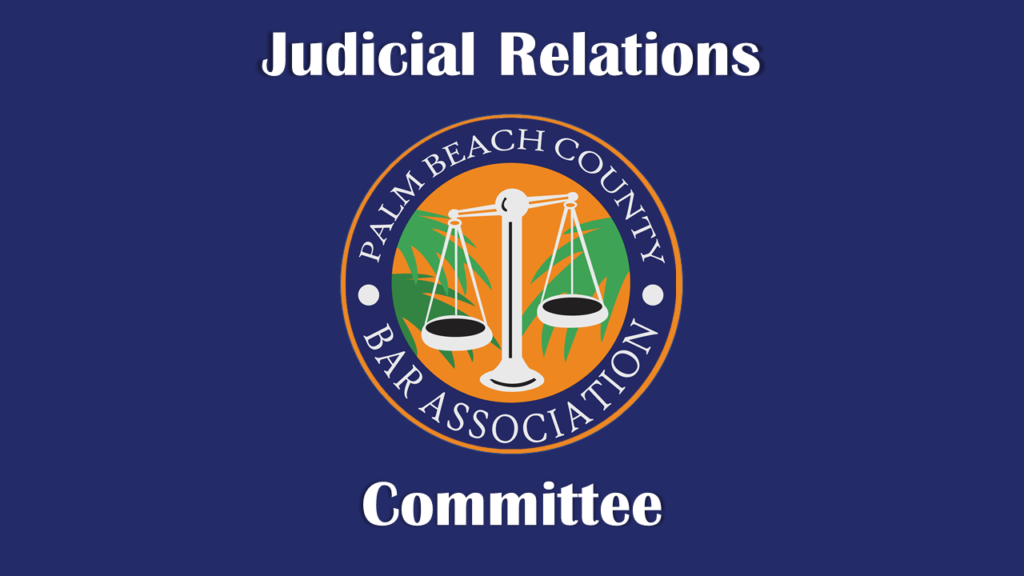 Committees are a great way to get involved with your local bar association, network with your colleagues and become a leader in your legal community.
Bench Bar Conference – March 11, 2022 | PBC Convention Center
Co-chairs: Andrew Kwan & Kelly Schulz
Organizes the Bench Bar Conference, our biggest annual event, held in the Spring and attended by hundreds of attorneys and State and Federal Judges that discuss various topics that are relevant to new and veteran practitioners. Our Chief Judge will give the County State of Address, and presentations will be made for the following awards: Sidney Stubbs Professionalism Award, the Judge Edward Rodgers Diversity Award, and the Judge Meenu Sasser Mentorship Award. This year's breakout sessions will cover the areas of commercial litigation, personal injury, family law, criminal law, Real Estate, and so much more. Registration information (not yet available). 
JRC Meeting Dates: 
September 23

November 4

December 16

January 27

March 3

April 14 

May 26
The Civil Discourse & Difficult Decision program will be held in-person at the main courthouse on April 28, 2022. This program involves inviting students to come to the courthouse to teach them civics, ethics and examine the law, in a proactive and interactive way. If you would like to participate, please contact Natalie Brandon at brandonn@gtlaw.com.
DIVISIONAL INSTRUCTIONS ARE FOUND ON EACH JUDGE'S WEBPAGE. PLEASE CHECK THE INSTRUCTIONS BEFORE FILING MOTIONS OR SETTING HEARINGS
Protecting the Integrity of the Judiciary Sub-Committee

Website/PR Sub-Committee

Judicial Liaison Sub-Committee

Judicial Profile Sub-Committee

Programming Sub-Committee

Judicial Luncheons Sub-Committee