MISSION
The mission of the CDI is to promote and facilitate the growth of diversity and inclusion in the local legal community through education, community involvement, and social engagement with and between people of varying race, color, religion, sexual orientation, gender identity, gender expression, ethnicity, national origin, age and mental and physical disability.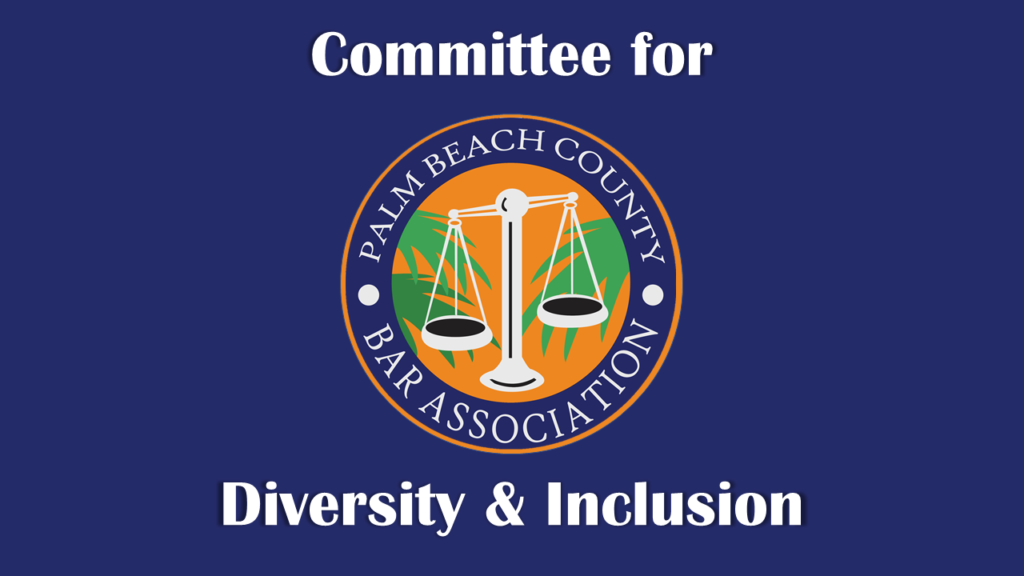 Committees are a great way to get involved with your local bar association, network with your colleagues and become a leader in your legal community.
The Diversity Internship Program (DIP) was established in 2010 to provide diverse law students with the opportunity to obtain practical experience in the legal profession and gain exposure to the Palm Beach County legal community while working with local law firms and government agencies. Prior to 2010, the program was known as the Minority Law Clerk Program and focused on providing students with historically disadvantaged backgrounds legal work experience. In expanding the program, the Palm Beach County Bar Association and Committee for Diversity and Inclusion intend that DIP interns will gain valuable work experience, be able to network with local attorneys and members of the judiciary, have opportunities at future employment, and ultimately decide to begin their legal career in Palm Beach County—continuing our broader goal of creating a diverse Bar Association that reflects the diversity of Palm Beach County and the larger community.
Since its creation, law firms from many different practice areas and many different sizes have participated as employers. State and local government agencies also have participated and employed DIP interns. A few previous DIP interns have been offered opportunities for future, permanent employment due to their participation in the program. However, future employment is not guaranteed. Many DIP interns, employed or not, chose upon graduation to relocate to Palm Beach County and are now active members of the Bar Association. We invite each Florida law school to promote our program and have their students participate in this year's Diversity Internship Program.
Student and Employer Applications may be downloaded using the links below. Law firms that want to participate, but are unable to offer an internship position at their own firm, may still support the DIP through other means. This includes making a financial donation that will sponsor a student's expenses and travel or provide a salary for an intern employed by a government agency. Law students, law firms, and government agencies that are interested in participating in this year DIP should contact Co-Chairs:
Toni-Ann Brown at tbrown@boydjen.com or Bryan Poulton at Bpoulton@sa15.org
---
The Palm Beach County Bar Association's Committee for Diversity & Inclusion will present the Judge Edward Rodgers Diversity Award at the March 20, 2020 Bench Bar Conference. To access this form, please click here.
---
You may have missed the original challenge in June, but please continue to challenge yourselves to become more aware, compassionate and engaged in the quest for racial equity. To access this challenge, please click here.
---