MISSION
The Unified Family Practice Committee works to initiate and consider suggestions to improve the practice of marital and family law in the 15th Circuit.  Members of the bench and bar, along with key court personnel from Court Operations, the Clerk's Office and the Court ADR office, meet bi-monthly to address how this can be done as issues are brought to the Committee's attention. In addition, the Committee maintains this webpage, reviews and assists in the drafting of Administrative Orders, submits occasional articles in the Bar Bulletin, contributes ideas for the annual Bench-Bar Conference, provides substantive and procedural information to our members, and keeps members posted on various matters of interest, running the gamut from legislation to CLEs, on both the State and local levels, as well as other activities in the legal community about which they should be aware. The Committee welcomes new members.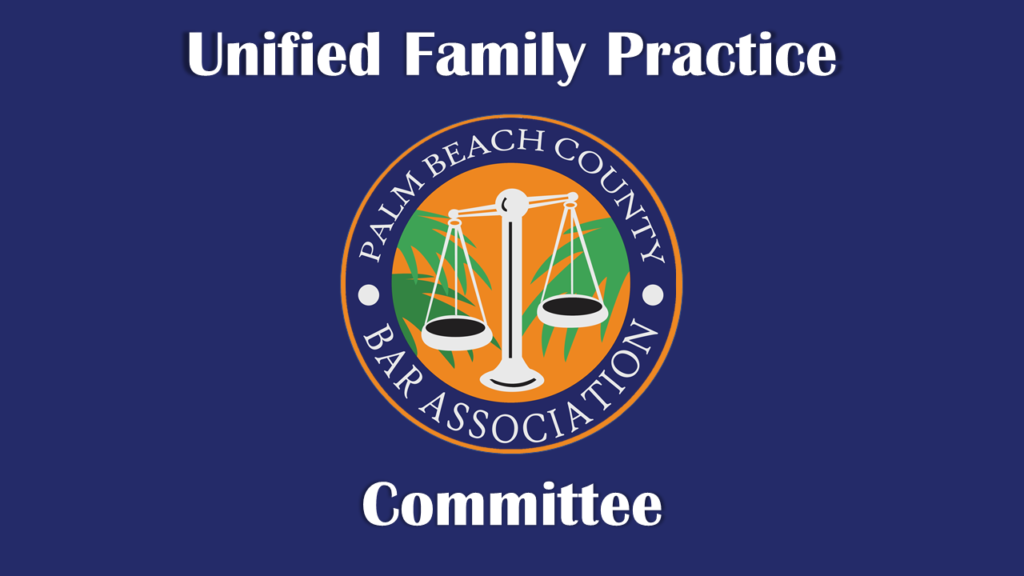 Committees are a great way to get involved with your local bar association, network with your colleagues and become a leader in your legal community.
Committee Meetings & Agendas
The Unified Family Practice Committee meetings are held in the Judicial Dining Room at the Palm Beach County Courthouse. Meetings generally last one hour and include lunch for committee members who RSVP. Dial-in is available for members who cannot attend in person.  All interested attorneys, Judges, Magistrates, and court staff are encouraged to attend.  If you are not a member and plan on attending an upcoming meeting, please e-mail one of the co-chairs to RSVP.
All meetings are held from 12:00 p.m. – 1:00 p.m. in the Judicial Conference Room of the Main Courthouse
Judges & Magistrates
Please refer to each division's page for suspension dates or call the hotline at (561) 355-6860
MAIN BRANCH
FAMILY DIVISION
JUDGES/MAGISTRATES
UMCs
FA
Judge Maxine Cheesman
Divisional Instructions
Tuesdays, Wednesdays & Thursdays at 8:45 a.m.
Set through online scheduling HERE
FC
Judge Renatha S. Francis
Divisional Instructions
Tuesdays, Wednesdays & Thursdays at 8:45 a.m.
Set through online scheduling HERE
FD
Judge Sarah Willis
Divisional Instructions
Tuesdays, Wednesdays & Thursdays at 8:45 a.m.
Set through online scheduling HERE
Male party's last naem begins with: A-K
Magistrate Damary Stokes
Divisional Instructions
Wednesdays at 8:30 a.m. – 9:00 a.m.
Set through online scheduling HERE
Male party's last naem begins with: L-Z
Magistrate Maxine Williams
Divisional Instructions
Wednesdays at 8:30 a.m.
Set through online scheduling HERE
(DOR matters) Male party's last name begins with A-K
Magistrate Judette N. Fanelli
Divisional Instructions
No UMC hearings in this division
(DOR matters) Male party's last name begins with L-Z
Magistrate James B. Williams, Jr.
Divisional Instructions
No UMC hearings in this division
NORTH COUNTY
COURTHOUSE
FAMILY DIVISION
JUDGES/MAGISTRATES
UMCs
FJ
Judge Scott Suskauer
Divisional Instructions
Tuesdays, Wednesdays, &
Thursdays at 8:45 a.m.
FI
Judge Karen Miller
Divisional Instructions
Tuesdays, Wednesdays &
Thursdays at 8:45 a.m. to 9:30 a.m.
FH
Judge Dina Keever-Agrama
Divisional Instructions
Tuesdays, Wednesdays & Thursdays at 8:45 a.m. to 9:30 a.m
Male party's last
name begins with
A-K
Magistrate Diane Kirigin
Divisional Instructions
Wednesdays at 8:30 a.m. to
9:30 a.m
Male party's last
name begins with
L-Z
Magistrate Thomas Baker
Divisional Instructions
Wednesdays at 8:30 a.m. to
9:30 a.m.
SOUTH COUNTY
COURTHOUSE
FAMILY DIVISION
JUDGE/MAGISTRATES
UMCs
FY
Judge Samantha Schosberg Feuer
Divisional Instructions
Tuesdays, Wednesdays & Thursdays at 8:45 a.m.
Set through online scheduling HERE
FX
Judge Charles Burton
Divisional Instructions
Tuesdays, Wednesdays & Thursdays at 8:45 a.m. to 9:30 a.m.
Set through online scheduling HERE
FZ
Judge Jessica Ticktin
Divisional Instructions
Tuesdays, Wednesdays & Thursdays at 8:45 a.m. to 9:30 a.m.
Set through online scheduling HERE
Male party's last
name begins with
A-K
Magistrate Peter Bassaline
Divisional Instructions
Thursdays at 8:45 a.m. to 9:30 a.m.
Male party's last
name begins with
L-Z
Magistrate Temi Zeitenberg
Divisional Instructions
Thursdays at 8:30 a.m. to 9:30 a.m.
Set through online scheduling HERE
WEST COUNTY
COURTHOUSE
FAMILY DIVISION
JUDGE/MAGISTRATES
UMCs
FW
Judge Sherri L. Collins
Divisional Instructions
Wednesdays at 1:00 p.m.
Set through online scheduling HERE
2020 Court Holidays
| | | |
| --- | --- | --- |
| Day | Date | Holiday |
| Wednesday | 1-Jan-20 | New Year's Day |
| Monday | 20-Jan-20 | Martin Luther King Jr. Birthday |
| Monday | 17-Feb-20 | No Court Events |
| Friday | 10-Apr-20 | Good Friday |
| Monday | 25-May-20 | Memorial Day |
| Friday | 3-Jul-20 | Independence Day |
| Monday | 7-Sep-20 | Labor Day |
| Monday | 28-Sep-20 | Yom Kippur |
| Monday | 12-Oct-20 | No Court Events |
| Wednesday | 11-Nov-20 | Veteran's Day (observed) |
| Thursday | 26-Nov-20 | Thanksgiving Day |
| Friday | 27-Nov-20 | Friday after Thanksgiving |
| Thursday | 24-Dec-20 | Christmas Eve |
| Friday | 25-Dec-20 | Christmas Day |