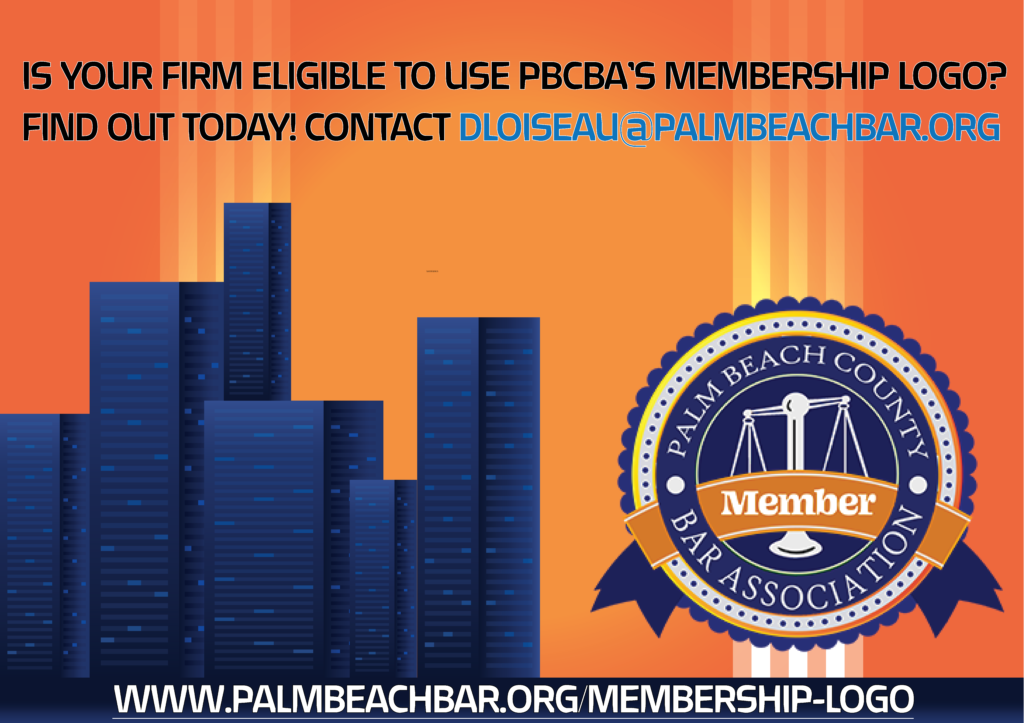 The Palm Beach County Bar Association offers firms that meet the requirements to use the PBCBA Member Logo for their firm's website. In order to submit your request to use the Membership logo, please use one of the button options shown below. If you have any questions, please use the button below. 
QUESTIONS?
DOWNLOAD FORM
In order to receive permission to utilize PBCBA's Membership logo, you must first meet the following requirements:
1) The bar's membership logo is a trademark of the Palm Beach County Bar Association;

2) The bar's membership logo can only be utilized on a firm's website if a minimum of two/thirds of its lawyers are in good membership standing with the PBCBA;

3) The design of the logo cannot be altered or changed;

4) The logo should be linked back to the bar's website at www.palmbeachbar.org.

5) The size of the logo on the firm's website should fall within the following parameters: 500×350;

6) Permission to utilize the logo must be approved yearly by the bar association sometime between

April 1st and June 30th

; (Please note that these dates are currently flexible due to COVID-19) 

7) The bar association has the right to require a firm to remove the membership logo from its website with or without explanation of this request.
Please forward the completed form to PBCBA Executive Director, Carla Brown, at CTBrown@palmbeachbar.org for approval. 
---